Building the pharmacy system that's right for you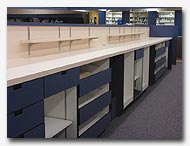 Comac Fixtures, Inc. specializes in the design and construction of modular pharmacy counter systems and shelving. Since it's a specialty, not a sideline, Comac can provide you with a pharmacy system as unique as the space you're going to put it in.


Selection, Craftsmanship, Quality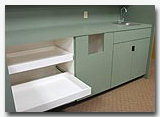 True, other manufacturers can build and install modular counters, but Comac takes the concept one step further by maintaining the largest selection of styles, sizes and colors on the market. Comac pharmacy systems are aesthetically pleasing, ultra-functional and slip smoothly into place with a time and money-saving ease of assembly that can only come from more than three decades of experience. Each one of Comac's designers and builders is a skilled craftsman in the truest sense of the work. Whether it's a single work station or a complete pharmacy, Comac combines the latest in computerized design and manufacturing, with proven experienced craftsmanship to make it work the way you envisioned it.


Unmatched color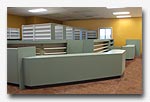 Just as important as the efficiency of a pharmacy system is its color. It can set an overall mood and make a first and lasting impression. Color can enhance the atmosphere for pharmacist and customer alike. For precisely those reasons, Comac offers the largest choice of colors in the industry. Unlike other manufacturers who build units in just a few basic hues, Comac lets you choose from hundreds of variations, shades and tones. Now you can get the system you need in the color you want.


Things you should keep in mind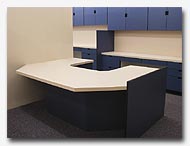 Modular counters and shelving custom designed for the space you have available. Uncompromising quality. Your choice of colors. Quick, easy installation. All backed by more than thirty years of nationwide experience. Definitely some things to think about when it's time to make up your mind about where to get the right pharmacy system. For more information, contact Comac Fixtures today.